Why Revival Wellness & Physical Therapy Clinic in Minneapolis-St.Paul?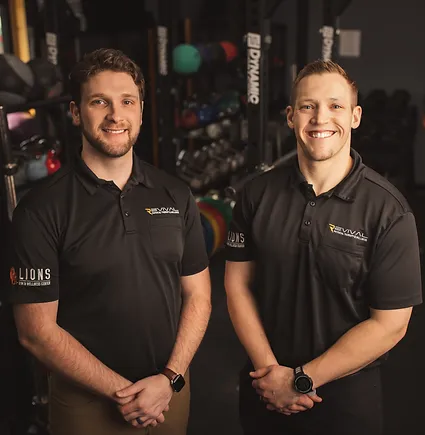 We at Revival Physical Therapy and Wellness will make sure that your time spent receiving physical therapy with us is worthwhile.
We don't just offer you a few stretches or exercises to try out on your own time like other treatments do, and then send you on your way.
We collaborate with you at Revival Physical Therapy and Wellness. Helping people achieve their ultimate goal of experiencing hip/shoulder/knee pain alleviation is what drives us.
The members of our physical therapy clinic and rehabilitation center in Minneapolis-St. Paul will develop a specific treatment plan for you and your injury or activity after evaluating your condition and discussing your medical history. That is because we are aware that no two people are the same. The person who is having hip or knee pain discomfort is the only one who has it and may want to get rid of it for different reasons. No situation is "one size fits all." For you and your issue, our personalized treatment strategies are the ideal choice.
Then, the specialists at our physical therapy clinic in Minneapolis-St. Paul will help you embark on a joint journey to treat your ailments and provide you with the relief/results you have been assiduously seeking.
What Makes Revival PT and Wellness Different
One-on-One For A Full Hour With Your Doctor of Physical Therapy, Every Visit
To ensure that you are getting the highest quality of care. Every session will be one on one with a doctor of PT. No aids, no techs. Just individualized care for you with your doctor
We are 100% committed to your recovery. Throughout your rehab process your therapist will always be accessible for any questions you may have
You're More Than A Diagnosis
The experts at our physical therapy clinic in Minneapolis-St. Paul take a holistic approach when it comes to your pain because we are fully aware that the location of your pain is not always the source. Not only do we improve your pain and reduce your symptoms, but we address the root cause of the issue and work to make your body more resilient in order to prevent further injuries.
You'll Never Get a Bill From Us Months Later After Your Visit
Unlike many physical therapy clinics in Minneapolis-St. Paul, you won't get any bills months following finishing PT. With Revival Physical Therapy and Wellness you will never be surprised by a bill you were not anticipating.
We Understand the Demands of Your Life and/or Sport
We walk the talk! As physical therapists who exercise and participate in a large variety of activities/sports ourselves we understand what it takes. While many physicians and physical therapists will simply tell you to stop your desired activity we understand that avoiding the things that you enjoy most because of an injury is no way to live. Because of our background we know the importance of keeping you in the activities you love and we find ways to modify your training so you can stay in your sport throughout the rehab process.
What Other People Just Like You Are Saying About Revival PT and Wellness in Robbinsdale, MN
I can't speak highly enough about Dr. Ben at Revival Physical Therapy and Wellness! From the moment I filled out the online form, the whole experience was great. I was contacted in a matter of a few hours to discuss my concerns and goals. I was scheduled quickly with Revivals flexible hours.
Dr. Ben was incredibly informative, professional, knowledgeable, and kind. I didn't feel like I was just another random patient for the doctor to get through- Dr. Ben truly cared about my progress and goals through each of my visits.
Highly recommend Dr. Ben!
I had shoulder surgery several years ago. Once I return to work I quit doing my physical therapy. So my left arm had a little better than 50% range of motion and was quite weak. I bought into a 10 session program with Peter Stanley. My range of motion has increased significantly. I'm able to reach the back of my neck with my left hand and I can reach well above my head again to nearly 100% range of motion. Peter was a lot of fun to get to know and work with. The App on my phone help me keep up with stretches and exercises that I needed to do. I would certainly recommend others having similar range of motion issues to get in touch with Peter. You won't be disappointed.
Want To Get Relief Faster?
Choose which option works best for you.